Last year – while I was v pregnant and v much Santa – I wrote some of my favorite Holiday Festivities that I was going to take part in around the Philadelphia area [you can view that here. A lot of these things are also happening this year!]. This year, I thought why not look at things that will get you and your little ones excited. I'm yearning for a parental date night, but am also living for Grey's reactions to all the Christmas trees and Santa…I mean the girl freaks out when we walk down the Target Christmas isles. So without further adieu, here are some of my favorite activities as well as things I'm excited to try this year!
Storybook Land Christmas Lights
This year, James and I took Grey to Storybook land to see Santa and to get her first real taste of Christmas lights. We went to opening night for the Christmas lights on November 16th to check out the parade, but ended up missing it. We made it just in time for Santa to greet us from atop his house and wave his wand to light up the park. Santa does this nightly from 11/16-11/30 as long as weather permits. This was my first time at Storybook land, and while I probably drove past it a million times on my way home from work I had no intention of ever visiting. Once I had Grey and found out they have Christmas lights, I wasn't sure just how much of the park they could possibly light up. Was it that cool? These lights do not disappoint! The whole park is lit from top to bottom, and if you like going to places like Longwood Gardens this is definitely a miniature version for you and your little ones to enjoy. I know that while I had wanted to take Grey to Longwood, it's cold and she probably wouldn't last the whole trip. So James and I may save that for a date night for the two of us, and this will be what we take Grey to every year. Yes – it was that good that I would take my little one there every year to kick of the Christmas fun
Blue Cross River Rink
Last year, I mentioned going to the river rink. I think it's great to still mention this year because it's a family friendly thing. In the past, James and I would go to the river rink to skate and enjoy a few brews by the fire pit. Now, I'm looking up when Santa will be there and what kids activities are scheduled.
This year they have story time every Saturday starting in November at 11:30 AM. They have a schedule posted on their site and Facebook, but if you're looking for a Christmas themed stories you should visit December 21.
This Friday, December 6, they are also having their annual tree lighting at 5:30. I've always wanted to go to this, but unfortunately I'll have to wait another year.
Last year I also remember them having Santa skating on the rink and princess, but as of now they don't have anything posted. I'll try and keep looking and update this post of that changes.
The Asbury Tree Lighting
This year, I think the tree lighting I'll be going to is at The Asbury Hotel. I always suggest going to one of these even though I've never been. It's almost like an official kick off to Christmas by your town. I wanted to try the Asbury because there a close bed inside for Grey to get to if it's too cold or too late, and there's ice skating and a Christmas market nearby if I want to venture during the day. The lighting happens at 6pm on December 7th with Santa himself, and you can do things like make a wreath, bake cookies, and enjoy holiday music from live bands. Find more information here.
Boozy Cookie Class
I stumbled upon this sugar cookie class in Middletown, DE last weekend and immediately wanted to go. It's looks like there Sweet Melissa does quite a few classes, with Boozy ones being December 8, 20, 21, and 22. There's also a Mommy and Me class on 15th.
The Philadelphia Zoo
I don't know if this is the first year they're doing it or if I've just lived under a rock, but the Philadelphia Zoo has a really cool light show. They have reservation times, like Longwood Gardens, that run every half hour starting at 4:30. On Wednesday's and Thursdays tickets are discounted, too! You can purchase them here and take your little ones – children under 2 are free!
Cape May Washington Street Mall
I've always loved going to Cape May during the summer to stroll through Washington Street and look at the shops, but during Christmas I've never been. This year, I think I may visit the Christmas Tree at Congress Hall and Christmas shop in the small boutiques there because I can only imagine what this place looks like during Christmas. I imagine it looks like an old time village with Christmas lights and pretty lit up windows. I will keep you updated on their Christmas Hospitality nights, where the stores serve refreshments and help you Christmas shop – there are no dates posted just yet!
Boozy Trolley Ride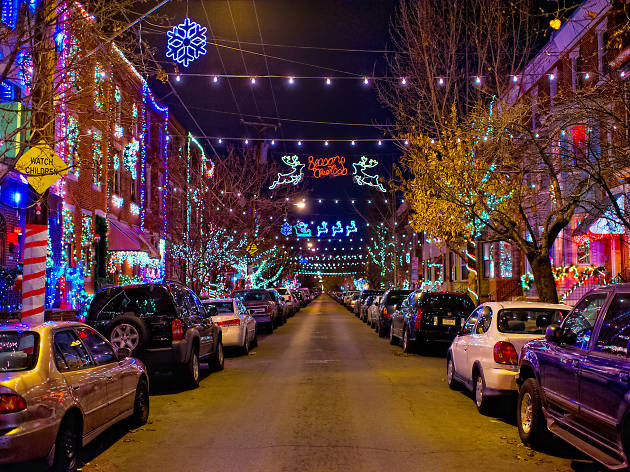 So if you're looking for an adult date night where you can go to McGillians, TInsel, or just go out on the town, there is a BYOB Christmas lights tour that I found out about last year. I was preggers so I couldn't indulge, but I think I may drag James to this Trolley tour this year. It's BYOB so I don't think he'll put up much of a fight. This two-hour tour has a live musician on the Trolley playing holiday music, and complimentary pizza to keep your belly full. It's $44 a person during the week, and Thursday-Sunday goes to $48. It seems a little pricey, but when you think about the musician, the tour, the food and the insurance the company probably has to pay for for letting you drink…I'm okay with it! Get your tickets here!